Jodhpur
Jodhpur, capital of the the kingdom of Marwar, encapsulates everything that is so brilliant about Rajasthan. Its has the beautifully preserved Mehrangarh Fort built in 1460, a magnificent sight and an architectural triumph.
Surrounding it is a bite-sized old city surrounded by massive walls with squares and step wells all waiting to be discovered on foot. And yet, amazingly, despite the delights of Jodhpur and its luxury hotels, it is regularly overlooked by mainstream travellers.
It is often referred to as the Blue City as many of the houses in the old quarter are vividly painted in this colour. There are varying theories about the origins of the colour, from the designation of high castes to a chemical within the pigment used as a deterrent for termites … to a more obvious, practical way of cooling buildings down from the scorching sun.
And it is for this latter reason that Jodhpur is also called the Sun City. Perched on the edge of the Thar desert, Jodhpur has a dry, hot climate which makes it the perfect place to come if you crave some rays although it can get exceptionally hot. Get the sun cream out or you'll burn – you have it on good authority!
Unusually for a large Indian city, Jodhpur is a very clean and orderly. Much of this is down to the Maharaja of Jodhpur who, although having no official role in the running of the city, promotes the notion of social responsibility.
And at Mehrangarh Fort, which is still within his family ownership, he runs a very tight ship with no hawkers, beggars or litter. Furthermore, the Mehrangarh, which is one of the largest hilltop forts in India, is spectacularly well maintained and the museum brilliantly curated. So much so,  we think is the very best we've seen.
If you only do three things in Jodhpur…
Explore the old city on foot. It's compact, the people are friendly and you don't need a guide. You'll notice within a couple of streets how different trades are plied each within its own small area.
If you get peckish, head to the samosa shop, just outside the main city gate which is famous across Rajasthan for its freshly prepared little parcels of heaven.
Ensure you have enough time to really absorb the brilliant museum and rooms at Mehrangarh Fort. You won't be disappointed.
A stone's from Mehrangarh, perched on an opposite hilltop, is Jaswant Thada, a beautiful mausoleum constructed at the turn of the last century using the finest materials from the surrounding areas. The facades are from thin sheets of marble which glow when illuminated by the sun and the windows are stunning, with views to die for (if you will excuse the gruesome pun). There are more marble steps than you could count, tiered gardens and an area still used as the royal burial ground.
And Needless to say, never stinting from the call of duty, Yonder has extensively researched Jodhpur luxury hotels and boutique hotels in order to bring you our select few….
Out and about
Jodhpur is one of those rare gems that can easily be navigated using just your legs. The main square is alive with tradesmen selling their wares. Much of this is aimed at locals, although a recent boom in the cottage industry has produced fabulous goods that appeal to discerning visitors, such as textiles adorned using traditional methods of block printing, pottery and hammered metals. The clock tower, built around the turn of the last century, dominates  the centre of the square.
The countryside surrounding Jodhpur is home to the Bishnoi people. They are a very small and  unique sect whose religious origins come from Hinduism. A fascinating few hours can be spent learning about their way of life, including their belief that no harm can come to living things which prevents them from killing animals and even felling trees for firewood. The same areas are also home to scrub lands which provide habits for a large range of birds and mammals, including leopards,  which can occasionally be seen when out and about.
Eating and Drinking
One of the beauties of an old city which is comfortably walkable is the fact you don't have to go far to find a good restaurant. Furthermore, many of the old houses of Jodhpur have flat roofs which make the ideal spot for a starlit dining platform. As Mehrangarh Fort is at the top of a sheer cliff, it is viewable from most of the rooftop restaurants. And if you want something at street level, the food on the stalls is lip-smackingly moreish.
Jodhpur is home to some fabulous restaurants and a number of famous Indian dishes have Jodhpuri origins. We are thinking of a Laal Maas, a spicy lamb curry, washed down with a Makhaniya Lassi, a buttermilk drink flavoured with cardamom and saffron. Mmmm memories! Or if just a nibble is needed to keep hunger at bay, a Mirchi Bada, a deep-fried chilli and potato snack served with tamarind chutney is mouthwatering.
Thoughts on a postcard
Of all the places we have been, the Blue City will stick in our minds. It was perfectly formed, beautifully maintained and was overflowing with culture.
Pillow Talk
Our Escapologists only recommend hand-picked, delectable properties we have sampled and savoured ourselves. We judge all our hotels by their excellence, the sheer hedonistic pleasures they have to offer. And we reject a lot that don't meet our exacting standards.
Some of our selections are classics, with reputations recognised the world over. Others are discoveries: boutique havens where hospitality, relaxation and fine cuisine have been distilled into a rare art form. You'll find a few options for the budget conscious too, where Yonder's principles are still to the fore. And for those who just need an airport stopover on their way to paradise, there's one or two convenience choices, too.
We provide in-depth descriptions of every property, based upon our own experiences there, along with our unique Yonder rating and icons that will give you further insights into what's on offer. We even tell you the types of clientele you might soon be rubbing shoulders with!
Now that's choosing a hotel Yonder style!
Journeys
Here at Yonder we have devised some exciting itineraries that will illustrate just what amazing journeys you could enjoy through Yonder's exciting far-away destinations.
Of course every one of Yonder's clients is a unique individual and we only create personalised itineraries that reflect those personal desires and wishes. So your Yonder journey will be as individual as you are. But to help you envisage just what amazing adventures might be possible, we have devised sample itineraries that we are confident will inspire you. You only have to pick up the phone to explore how any one of these ideas might be adapted to create your own perfect journey Yonder.
Offers
Chat to your dedicated Escapologist about the latest offers available.
Notes In Our Journal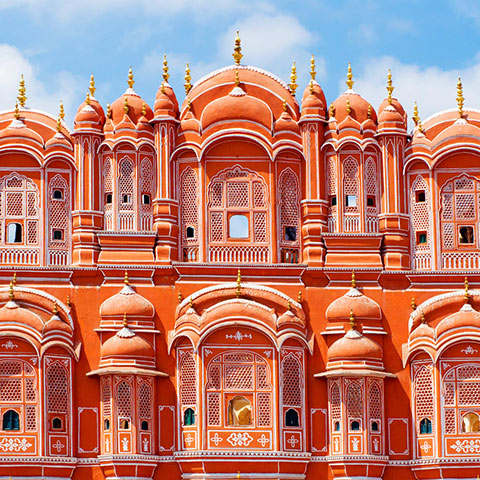 The splendours of Rajasthan are a legacy of its position at the heart of the great historic trades in gems, silk and spices.
A Few Tips to Consider When Booking a Luxury Holiday
Beat the Post-Holiday Blues with Yonder